Party Packages
Girls Spa, Tea Parties & Ideas
All two-hour celebrations include:
•Exclusive use of our divalicious facility for 10 children; we host only one party at a time.*
•Diva-of-honor is always complimentary
•Exclusive Darlings & Divas party invitations
•3 Divalicious party hostesses
•Choice of pizza or mini-bagels with spreads
•Beverages: choose from apple juice, fruit punch, pink lemonade, Shirley Temples, and water
•Diva Dress-Up Lounge – filled with dresses of all sizes & themes, jewelry, sunglasses, purses and an assortment of other accessories.  Have a brother?  We have costumes for Dudes, too!
•Microphone & sound system if the Divas want to sing on our stage
•High-energy dance party on our dance floor (cha-cha slide, cupid shuffle, freeze dance, and more)
•The latest age-appropriate music videos and playlist on our sound system
•Birthday banner that each guest signs and the Diva-of-honor takes home at end of party.
•Group photo on our stage printed out for Diva-of-honor to take home
•Complimentary Gift for the Diva of Honor
*Additional children may be accommodated for an added per guest charge.  Please inquire at time of party booking.
All of this plus your choice of package below!!!
Our celebrations include ONE of the following service packages:
Divalicious Makeover Package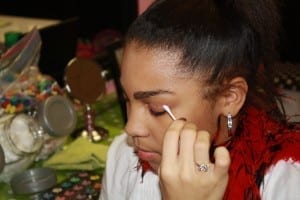 •Mini-manicure with our exclusive lotions and choice of glittering top coat, nail design, or crackle
•Glittering makeup application or face painting (choose one)
•Punk rock hair style with hair accessory for each guest to take home and glitter dusting
Sparkling Spa Package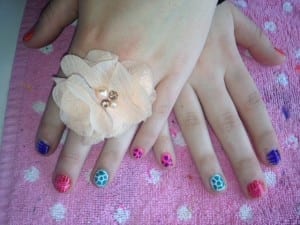 •Mini-manicure with our exclusive lotions and choice of glittering top coat, nail design, or crackle
•Me!Bath ice cream spa pedicure featuring ice-cream themed soak fizzies, sugar scrubs, foot masques, and lotions.
•Glitter tattoo application (our glitter tattoos are made in the U.S.A. of non-toxic ingredients)
Have dudes as well as divas?  No problem!  We can easily glam-out Dude guests with punk rock hairstyles with washable color, face painting, tattoos, pirate makeovers, and more!
Still want more?
Please note: our service packages are perfectly tailored to accommodate a two-hour party.  As such, they cannot be altered.
If you would like to book a party or discuss additional options please call us today (631) 608-4710.